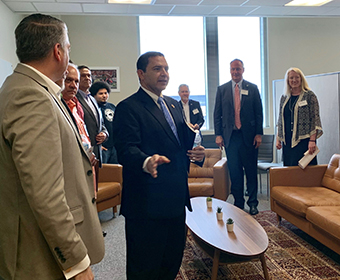 (May 3, 2019) – United States Congressman Henry Cuellar, representing the 28th Texas district, came to UTSA today to visit the National Security Collaboration Center (NSCC). An ecosystem to engage government, industry and academia to tackle the nation's greatest cybersecurity threats, the NSCC advances San Antonio's position as a leader in national security, focusing on research, education, and workforce development in the areas of cybersecurity, data analytics, and cloud computing.
A member of Congress since 2015, Congressman Cuellar has a large portfolio and responsibilities including serving on the U.S. House Appropriations Committee in charge of overseeing the Federal budget, and on the House Appropriations Subcommittees on Homeland Security, Defense, and Agriculture, Rural Development, Food and Drug Administration, and related agencies. The congressman understands the value of education. He is the most degreed member serving in the U.S. House of Representatives with a total of five advanced degrees, and has worked prior to his election as a professor in South Texas.
Welcomed by UTSA President Taylor Eighmy, Congressman Cuellar was given a tour of the NSCC inaugural facility on the Main Campus. A roundtable discussion with NSCC partners followed and included CACI/LGS Innovations, CNF Technologies, Dell Technologies, IPSecure, and Raytheon on the industry side; government representatives included the 24th Air Forces Cyber, 25th Air Force, Air Force Life Cycle Management Center, Army Research Laboratory, Federal Bureau of Investigations, and the Texas Department of Information Resources.
"We're leveraging UTSA's leadership in cybersecurity education to build a world-class National Security Collaboration Center unlike any other," said Eighmy. "The fact that we've already established partnerships with over 35 federal and industry entities is an indicator of our momentum, and we were thrilled to share our progress with Congressman Cuellar today. He is an advocate and we very much appreciate his support."
>> Learn how UTSA is building a national security powerhouse.
Topics of discussion included the NSCC's pursuit of federal funding mechanisms to grow and sustain the ecosystem and innovative ways in which partners are working to create technological solutions to issues of national security and defense. The visit concluded with a demonstration on Artificial Intelligence (AI) for Battlefield Situational Awareness by Paul Rad of the Open Cloud Institute.
"The NSCC partnership ecosystem is impressive and presents great opportunity for our country, where capabilities are being built, tested and deployed into our nation's cyber infrastructure," said Cuellar.