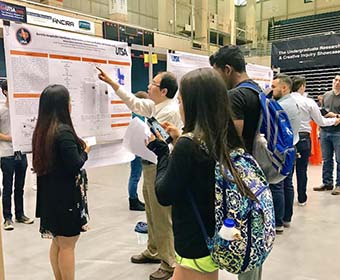 (April 17, 2018) — As San Antonio's multicultural discovery enterprise, The University of Texas at San Antonio (UTSA) is gearing up for its largest show-and-tell event of the year. Organized by the Office of Undergraduate Research (OUR),  the Undergraduate Research & Creative Inquiry Showcase will highlight undergraduate student research and creative endeavors from all disciplines on Thursday, April 19 from 10 a.m. to 2 p.m. in the Convocation Center on the UTSA Main Campus. Topics range from smart energy systems to gender roles, from borderlands to historic places, and the science of mind, body and soul.
The Showcase gives many undergraduate students their first opportunity to share their research in an academic setting and explain their methodology and findings to peers and faculty. Students have the opportunity to jump-start their academic curriculum vitae (CV), and network and learn from one another.
"We want to engage as many UTSA undergraduates in the research enterprise, whether it is applying for a scholarship, lab placement, externship, summer program or independent research opportunity, ideally in their first year. The Showcase gives a taste of what's possible when you do get involved and we hope it inspires other students to follow suit," said Thomas Coyle, director of the UTSA Office of Undergraduate Research.
The entire UTSA community is encouraged to attend the Showcase. Student attendees can participate as peer judges by engaging with undergraduates who are presenting their research and honing their presentations skills. By critiquing two research posters, student attendees receive a free t-shirt and lunch.
Faculty and postdoctoral students are invited to sign-up as formal judges who evaluate the student presenters and help them develop their research skills. Student presentations will be judged by a faculty member or specialist in their respective field of study. The top three presentations from each college (Architecture, Business, Education, Engineering, Liberal & Fine Arts, Public Policy, Sciences, and Honors College will be selected to receive the Best-in-Show award. Award winners will be invited to attend the OUR. Undergraduate Research & Creative Inquiry Showcase Best-in-Show Awards ceremony May 4.
Mentorship is a key element in developing a research mindset and ensuring student success. As such, notable faculty mentors are recognized at the annual event. This year, Mark T. Leung from the UTSA College of Business and Pranav A. Bhounsule of the UTSA College of Engineering are being honored for the Faculty Mentor Award for Undergraduate Research. They have demonstrated a strong track record of sustained involvement with undergraduates who pursue and benefit from undergraduate research.
A tenured professor and department chair of the Department of Management Science and Statistics,Leung has mentored numerous student teams over the years who have participated and been recognized at the Showcase. Many of his students have moved on to graduate programs such as the M.S. in Data Analytics, Statistics and Data Science, M.B.A. and others. He has also collaborated with faculty members to develop an array of predictive models for UTSA student attrition, providing meaningful data and insights to address this issue and potentially shape future policy.
A robotic specialist and assistant professor in the Department of Mechanical Engineering, Bhounsule has mentored 45 undergraduate students in diverse research experiences over the past three and half years. He has been active in recruiting and mentoring underrepresented students, with many pursuing graduate studies. His students have found numerous placements in military and industry laboratories and success in juried competitions, grant awards and scholarships.
STEM-focused participants are encouraged to submit their research posters to the upcoming SACNAS conference taking place in San Antonio October 11-13, 2018. All participating students should consider submitting their research as a journal article to UTSA Journal of Undergraduate Research and Scholarly Works (JURSW).
UTSA is ranked among the top four universities in the nation under 50 years old, according to Times Higher Education.