Senior UTSA engineering and architecture majors showcased their solutions to many of humanity's grand challenges at the Fall 2021 Tech Symposium on Tuesday, November 23. The event, sponsored by the College of Engineering and Integrated Design (CEID), was back to a bustling, convention-style setting in the H-E-B Student Union Ballroom following a pandemic-induced hiatus.
More than 400 students partnered in teams to showcase their ideas to fellow students, faculty and judges. Senior Design I students presented their concepts through posters. Senior Design II students produced and presented prototypes based on their Senior Design I concepts. All engineering entries were judged by professionals in each major category. The Design II teams competed for $11,000 in cash prizes.
"The Tech Symposium is a great example of classroom to career learning. We bring in the experts, the people that hire our students, to mentor and help them learn what they're going to need on the job," said JoAnn Browning, dean of CEID. "Here, they're taking the classroom piece, putting it together with their careers and defending it in front of everybody else like they would with any career position."
---
"It's very rewarding for them. But it's so rewarding for the professors and mentors to see them succeed."
---
---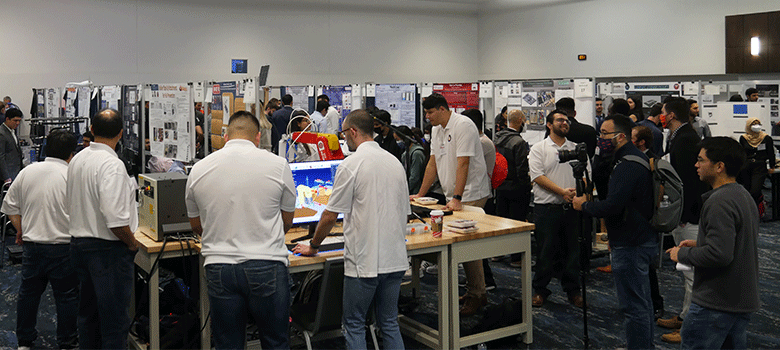 The Fall 2021 Tech Symposium was held in person at the H-E-B Student Union Ballroom at the Main Campus on Tuesday, November 23.
---
---
More than 30 companies and organizations served as project sponsors, providing resources and materials for the students to develop their concepts. H-E-B is sponsoring five Tech Symposium teams focused on research and designing efficiencies. Electrical and computer engineering majors Gustavo Leon, Pedro Lopez, Lydia Tadese and Johnson Nguyen are part of Dream Team. They worked together to engineer a method to improve the scan and print process for barcodes.
"Being able to work with UTSA and H-E-B on this project was thrilling, honestly," Nguyen said. "Our two H-E-B mentors shared with us very valuable tips and technical training. So, it was it was just amazing to get this experience."
"Our team learned a lot about how software and hardware work together. This gave me more confidence about exploring different career choices," Leon added. "I wasn't really sure about looking into software engineering jobs but after my experience on this project that's an area I'm exploring."
---
---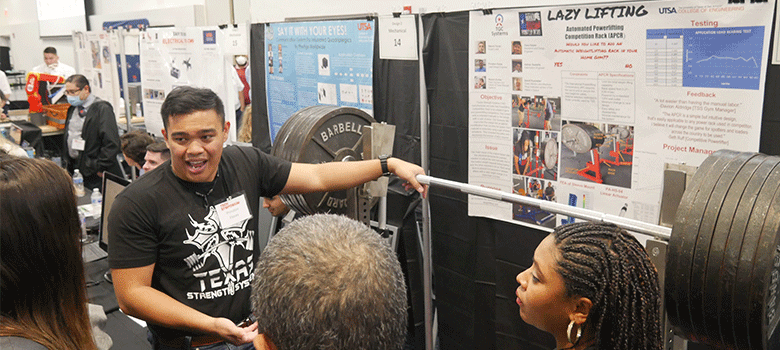 Prinzton Flores with Team TGC Systems demonstrates the group's Lazy Lifting concept for an automated powerweight competition rack.
---
---
The UTSA Makerspace, located in the university's Science and Engineering Building, is a second home for senior design students. Each team spends an average of 800 hours in the state-of-the-art facility, using tools and shared knowledge to complete their senior design projects.
"You see some teams in over the weekend, 'til midnight working on their machines, trying to iron out the kinks and things like that," said Don Petersen, director of engineering, innovation, and design at the Makerspace. "It's very rewarding for them. But it's so rewarding for the professors and mentors to see them succeed."
That includes Petersen who witnesses firsthand the pride and hard work students put into delivering a quality product for this big day.
"I'm really proud of them, you know," he added. "It's fulfilling for me personally and I'm really happy for them. You get to see them persevere and show off their work at the Tech Symposium."
---
---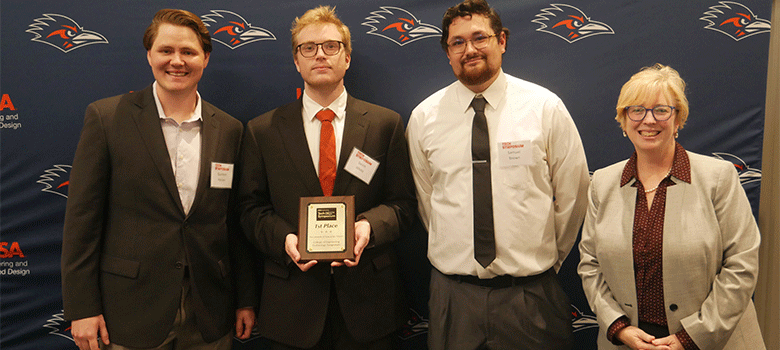 Team SDQ Engineering won first place at the Fall 2021 Tech Symposium, earning a $4,000 prize. From left to right, team members Quinten Kocian, Devin White and Samuel Brown posed for a photo with CEID Dean JoAnn Browning.
---
---
EXPLORE FURTHER
---
---
Team SDQ Engineering won first place at the symposium and a $4,000 prize. Sponsored by H-E-B, the team developed a chicken seasoning device. The team of electrical and computer engineering majors includes Samuel Brown, Quinten Kocian and Devin White.
Other Senior Design II winners included Team Sauce, which took second place and a $3,000 prize for its Portable IV Pump. Power Fac Thor won third place and $2,000 for its Remote Monitoring System.
Three teams from the Senior Design I category won $1,000 prizes including Modi Fly for its Modular Drone, The Backpack for its Mag L Disk and Flex 3D Engineering for its 3D Printer Pellet Material Feeder.