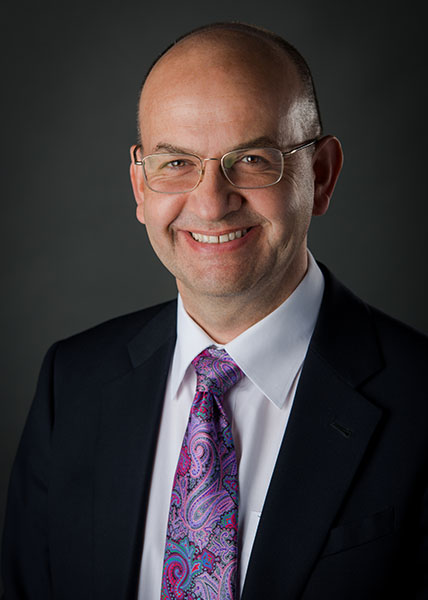 Andrea Giuffrida, Ph.D.
Vice President for Research
University of Texas Health San Antonio
Andrea Giuffrida, Ph.D. is the Vice President for Research at University of Texas Health San Antonio and a professor of pharmacology. He oversees the institutional research infrastructure and operations, regulatory compliances, strategic planning and the creation of new academia-industry partnerships. He also serves as liaison to the University of Texas System for matters related to research advocacy and technology commercialization.
Dr. Giuffrida has provided important breakthroughs to the neuropharmacology of the cannabinoid system, which have been published in high-impact journals, including Nature and Nature Neuroscience. His research interests focus on the role played by endocannabinoids in psychomotor disorders characterized by dopaminergic dysfunction, such as schizophrenia and Parkinson's disease and has been funded by the NIH and several national and international private foundations.
In 2011, he served as an AAAS Science & Technology Policy Fellow in the Office of Science Policy at the National Institutes of Health. In that capacity, he worked on FDA-NIH cross training activities, regulations on companion diagnostic devices, and responded to inquiries for the Congressional Record (QFRs) on topics related to NIH programs, regulatory science and drug development. He serves on the board of directors of BioMed SA, an industry cluster organization, promoting bioscience and healthcare in San Antonio.
In addition, Dr. Giuffrida serves on the boards of trustees of the Texas Research & Technology Foundation and the Texas Biomedical Research Institute. Dr. Giuffrida is a member of the editorial boards of the International Journal of Neuropsychopharmacology and Pharmaceutical Regulatory Affairs. He is actively engaged in life science and biotechnology networks in the state, the U.S. and internationally.