Intellectual Property Process
Why we do what we do
Universities, hospitals, and research centers conduct a lot of research that generates groundbreaking inventions, that not only save lives, but improve the way we live, work, and play on a daily basis. Learn more about how technology transfer benefits you. View video (Created by the Association of University Technology Managers)
Tech Transfer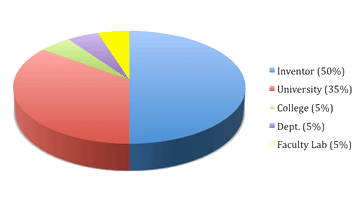 Revenues from license fees and royalties, minus any unreimbursed patenting and filing expenses, are shared with inventors 50/50. The inventor(s') revenue is distributed as income above and beyond normal salary, typically reported on an IRS 1099 form. The university portion is allocated to the VP for Research, the college, the department, and the inventor's lab. This revenue is to be used as discretionary funds for reinvesting in the growth of research in the university (i.e. research, staff, students, conferences, etc.).
Multiple inventors and/or patents in a license, a UTSA Revenue Distribution Formula Agreement (RDFA) will be signed by the inventors clearly defining the terms of royalty distributions. The initial RDFA includes a draft formula based on the contributions listed in the Invention Disclosure(s) relating to the license. All inventors must sign the RDFA, signifying their approval. The RDFA also outlines how revenue will be distributed in the event that new inventors and/or patents are added to the license agreement, as can arise with a sponsored research agreement. The Office of Commercialization and Innovation staff will work with inventors to create an RDFA.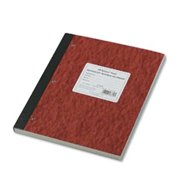 Laboratory notebooks are valuable to provide a record of the creation of inventions. They can also provide support for the university's compliance with federal regulations. With this in mind, below are some suggestions to follow when developing your laboratory notebook:
Use bound notebooks with the numbered pages
Make sure all entries are printed legibly with a ballpoint pen and initialed or signed by the person writing in the entry. No pencil or water-soluble ink should be used.
Each experiment should be described in detail and should include a discussion of its purpose, along with the outcomes and conclusions of the experiment in a clear and detailed way.
Each project should have its own notebook or set of notebooks. For multiple notebooks, each one should be numbered individually to help organize your records.
Be sure to record reagent lot numbers as well as invoice numbers for any special order supplies or services (such as peptides or DNA sequencing). A copy of the dated invoice is also recommended.
Have a witness who understands the research or technology (but would not be named as a co-inventor on any subsequent patent filing for the technology) sign and date important entries in the notebook.
Be sure to date all machine-generated, non-handwritten laboratory data and securely attach them to the laboratory notebook. If possible, a description should be written on the material provided including the significance of the result.
All hand-written data transcribed from a computer or data generating machine should include a copy of the raw data.
Information recorded on "thermal" paper should be copied to regular paper, since "thermal" paper fades over time.