About Dr. Navara & the Stem Cell Core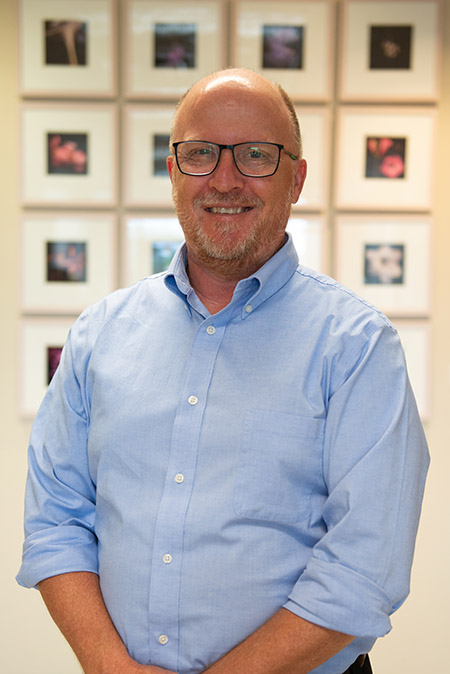 Christopher Navara, Ph.D.
Core Director
Dr. Christopher Navara has 15 years of experience in pluripotent stem cell research including both humans and non-human primates. To date he has derived or isolated over 50 cell lines from rhesus monkeys, baboons and humans including from patients with Alzheimer's disease Parkinson's disease and epilepsy. Before coming to UTSA in 2008 Dr. Navara was the director of the Stem Cell core at the Pittsburgh Development Center of Magee Womens Research Institute at the University of Pittsburgh Medical School. Dr. Navara received his bachelor's degree in molecular biology and a Ph.D. in cellular and molecular biology from the University of Wisconsin-Madison.

Dr. Navara's research focuses on the cellular biology of pluripotent stem cells. The repeated clinical failures of therapies for Alzheimer's and Parkinson's disease indicate the need for additional preclinical models of these complex conditions. Parkinson's disease is a progressive degenerative disease resulting in the loss of nerve cells in the brain. Samples from human patients are difficult to obtain and animal models may not faithfully mimic the disease. Using human pluripotent stem cells, Dr. Navara's research group makes human nerve cells from Parkinson's patients, test their biology to better understand the disease, and test new potential therapies that may slow or stop its progression.

Pluripotent stem cells also hold great promise for the treatment of diseases ranging from diabetes to Parkinson's disease. Dr. Navara's group is using non-human primates as preclinical models for the safe testing and optimization of these therapies prior to use in the clinic. Recently, he differentiated these iPSC lines into fully functional dopaminergic neurons (Grow et al., 2016 Stem Cells – Translation Medicine) and demonstrated these cells express the neuronal genes TUBB3, MAP2, TH, and KCNJ6. They also have spontaneous and induced action potentials and they release catecholamines upon stimulation as assessed by cyclic voltammetry. Currently, he is transplanting these cells back into the animals from which they are derived.
More Information
To view more information about us, visit the links below.
Location
Science Research Laboratories
One UTSA Circle
San Antonio, TX 78249

Hours of Operation
Monday - Friday
9:00am - 5:00pm
Resources
For more information about stem cell biology, please visit StemBook, an open access collection of content covering a wide range of topics, for both stem cell and non-stem cell researchers